Konica Minolta Sonimage P3 - Hand Held Ultrasound
Call 1-800-410-9575 for pricing
The SONIMAGE P3 is a true portable ultrasound machine that gives clinicians the ability to do more for patients where and when they need it most – at the point-of-care. With its small footprint and weighing less than a pound, this handheld device can accelerate and improve interventions and decision making time.
Intuitively designed like a smart-phone, the P3 equips users with a non-invasive tool to see what's beneath the surface in patients, giving care providers' quicker access to information and improving patient care. The SONIMAGE P3, cost-effectively empowering physicians to do more with less – providing them imaging solutions in real time.
No Need to Compromise. Ultrasound Designed for You.
Personal
SONIMAGE P3 strengthens clinical confidence, aids in quick diagnosis, and enhances the patient and healthcare professional experience. The ultrasound technology is easy to use in various clinical settings.
Portable
SONIMAGE P3 is small and lightweight, enabling imaging at the point-of-care. It powers up instantly and is ready to use when and wherever you need it. Use as a stand-alone system or simply plug the handheld display unit or ultrasound probe directly into your Windows based PC, laptop or tablet running SONIMAGE VIEW software – standard with the SONIMAGE system. Ideal for occasions when you need a larger display.
Point-of-care
SONIMAGE P3 is designed as a handheld system for emerging point-of-care markets, with a broad range of applications for both human and veterinarian markets. Ideal for any point-of-care physician or healthcare professional.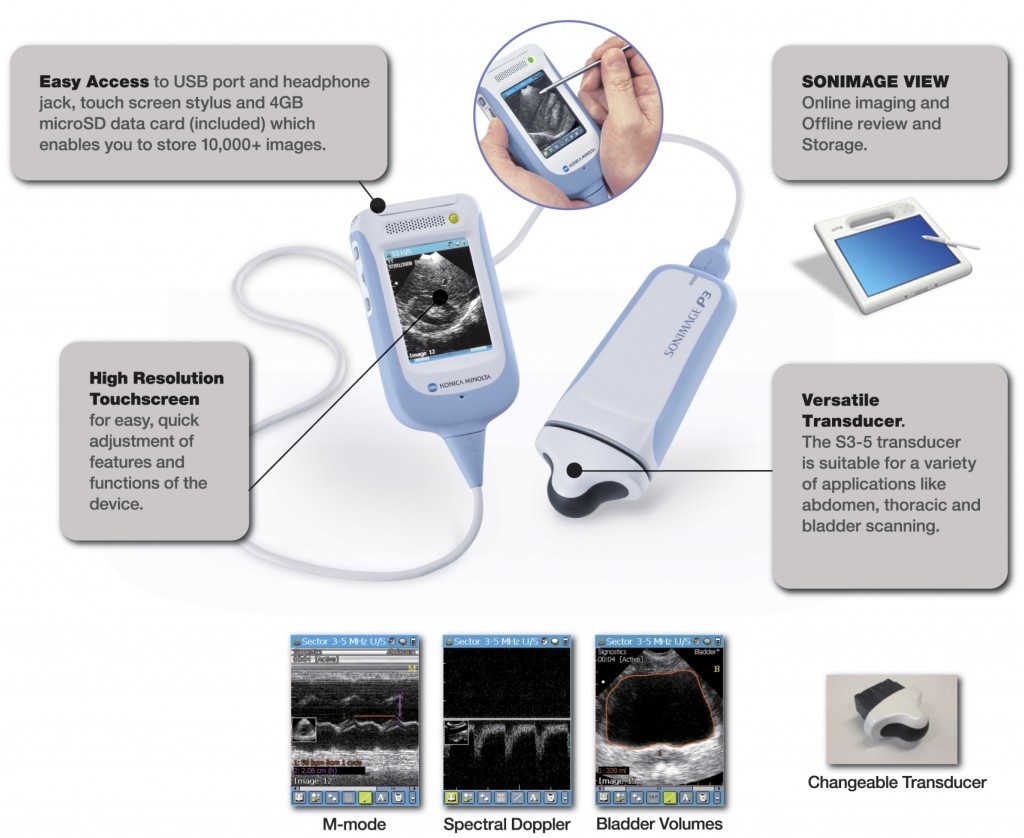 Broad Range of Applications
FAST and eFAST
Lung imaging – pleural fluid, thoracic and pleural motion
Post-void residual bladder volume (automated measurements)
Basic pregnancy assessments – confirmation scans, FHR, fetal position
Basic internal organ imaging – gross gall bladder pathology
Abdominal aortic aneurysm (AAA) screening
Localization of free fluid in the abdomen and lungs
Core muscle assessment – Transvers Abdominus, pelvic floor
Increase Efficiency. Improve Workflow.
SONIMAGE P3's quick diagnosis during the examination helps reduce unnecessary follow-ups and can improve referral accuracy. Immediate ultrasound helps speed diagnosis, reduce patient wait times, and improve workflow by providing additional information for validation and identification of patients who require further examination.
Innovative Design. Simply Indispensable
Innovative design makes this real-time system an ideal companion for any point-of-care physician or healthcare professional. The convenience of B-mode, M-mode, Doppler and simple to access presets makes SONIMAGE P3 simply indispensable.